When the Food and Drug Administration approved Boston Scientific's Watchman® device in March, UVA Health System acted quickly to add this new procedure to the group of minimally invasive techniques it uses to mitigate stroke risk in patients with atrial fibrillation (AF). "It gives us an option for occluding the left atrial appendage in patients who have previously undergone heart surgery," says UVA cardiologist Rohit Malhotra, MD.
According to Malhotra, UVA is now one of the only medical centers in Virginia offering three minimally invasive options for occluding the left atrial appendage (LAA), the source of clots that cause the vast majority of strokes in AF patients.
The Watchman takes a fresh approach to occluding the LAA. Both the Lariat™ and the AtriClip® devices pinch off the LAA protrusion from outside the heart. The decision to use them depends in part on the size and angle at which the LAA protrudes from the heart. The Watchman is a filter that is passed through a catheter to the interior of heart and is deployed in the LAA orifice. Composed of a compressible nickel-titanium alloy, it comes in five sizes to accommodate different LAA diameters.
Once the Watchman is deployed, a transesophogeal echocardiogram ensures proper positioning and that there are no leaks. It takes approximately 45 days for the Watchman to be incorporated into the tissue of the heart. During this time, patients are required to take a blood thinner like warfarin. At 45 days, patients come in for a follow-up echocardiogram.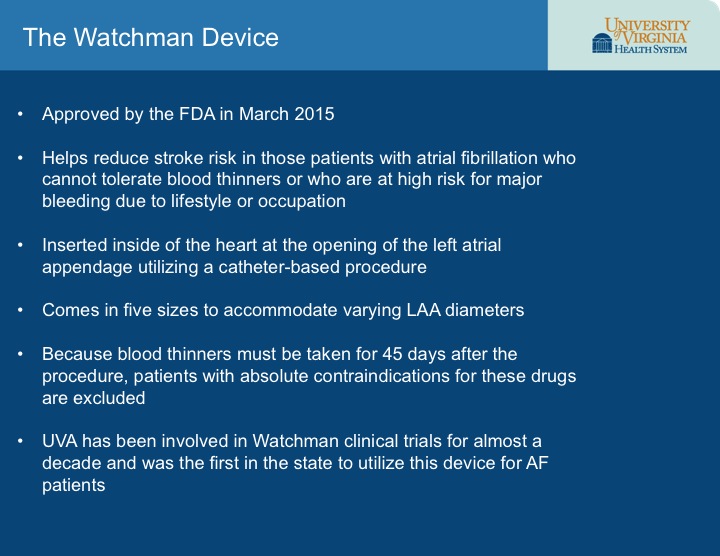 "The Watchman is one of the most extensively studied medical devices ever approved by the FDA," notes cardiologist Scott Lim, MD. "The FDA wanted to make sure that the device could be inserted with minimal risk of bruising the LAA and causing bleeding." Patients in in the most recent clinical trial  — the PREVAIL continued-access protocol study  — had a complication rate of just 2 percent. UVA was able to offer the Watchman so quickly after it was approved because it was a long-standing participant in these trials. "Because this is a delicate procedure, having an experienced team is very important," Lim says.
The introduction of the Watchman, the Lariat and the AtriClip over the last five years reflects the recognition that blood thinners, even among patients who tolerate them, have their own long-term risks. "We view them as a necessary evil, but for a long time we have been looking for something better for our patients," says Lim. By occluding the LAA, physicians could eliminate the need for patients to take these medications for the rest of their lives.
All three procedures are currently undergoing further study and additional refinements are likely. Clinical trials in Europe, for instance, have suggested that the Watchman could be inserted using aspirin and clopidogrel, making it available to patients with contraindications to warfarin.
"Our primary goal in adopting the Watchman is to increase the likelihood that patients in Virginia will have an option that meets their needs," Malhotra says. "Blood thinners and these minimally invasive techniques all have their pluses and minuses. Meeting together as an interdisciplinary team, our cardiologists, electrophysiologists and surgeons can sit down together and decide on the best approach for each patient."
View this and more articles on UVA Physician Resource →